LED House Numbers
LED Numbers are available in 150mm, 200mm, 250mm and 300mm in height
Turn heads with our LED illuminated, edge lit floating house numbers.
Customise your numbers with a selection of fonts, sizes, finishes and LED colour.
Make a statement with our sleek and individual LED house numbers. Built to a high standard, these LED edge lit numbers look stunning by night and day. Unlike some other illuminated numbers which are flat cut with LED's stuck to the back, our LED numbers are go anywhere, fully enclosed, weather sealed units with a clear acrylic LED core. The front face of the number is available in a choice of metal and acrylic finishes. The centre core is made from 5mm clear acrylic, with embedded LED lights that track around the entire inside and outside contour of the number. The amount of LED lights inside each number depends on it's shape and size, for example, our smallest numbers would range between 70 and 130 individual LED's, this ensures perfect edge illumination around the entire number that no back lit number can achieve. The rear of each number is a solid 3mm acrylic plate, which is fitted with stand off fixings so the number can float off the wall and cast a pleasing halo of light.

Digitally Controlled: When connected to any of our standalone Digital Timer Controllers, you can set the brightness level of your numbers and precisely control when they switch on or off.
Available in a choice of fonts, sizes and LED colours
Try out our easy to use online tool to select your options
This is what some of our customers have to say about our LED floating house numbers



Smart by Day, Outstanding by Night
Make your home, property or business stand out
What's in the box.

You will receive a fully assembled LED house number in your chosen font, size, finish and colour with fixings in place on the back. Fitted to each number is 5 metres of cable but if you need longer, just let us know, we can add length by the metre.
All fixings, screws, template and instructions are included.
One 12v power adaptor is required but not included. This is supplied separately with options available depending on the size and quantity of numbers you wish to power. We can also supply a plug in power adaptor as an option for easy installation. There is no need for an electrician with this option.
All specifications are detailed below.
1 / 6
Stunning LED House Numbers
2 / 6
3 / 6
4 / 6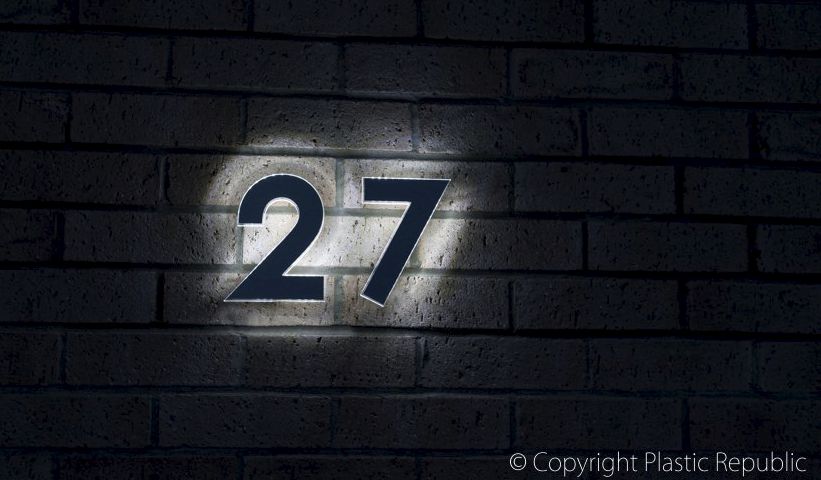 5 / 6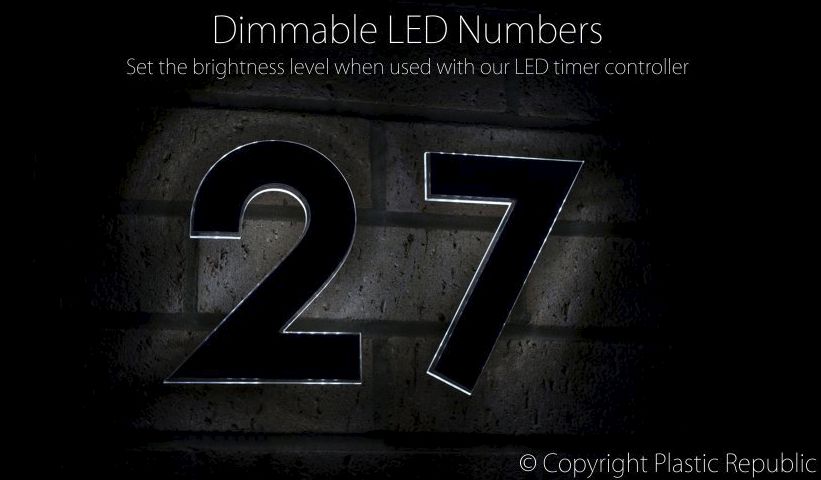 6 / 6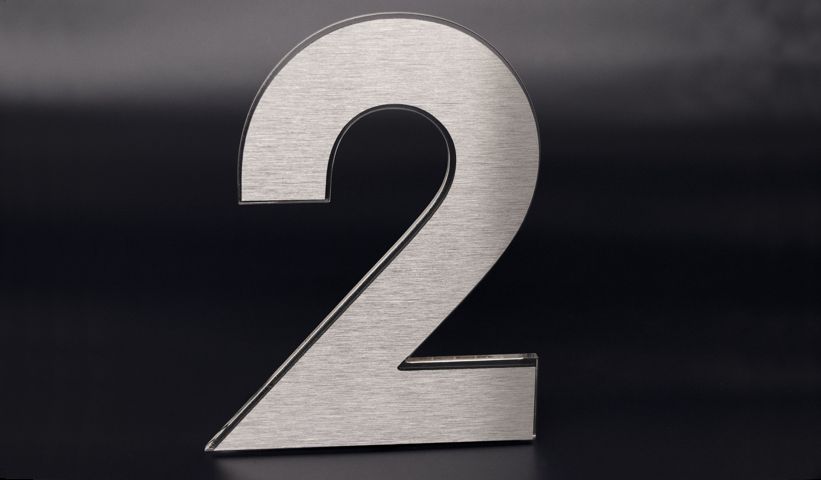 Stylish Unlit
It's easy to choose your numbers and select your options with our design tool.
LED numbers are compatible with the LDT-i1s & LDT-i2s (Standalone) digital timer controllers
You can connect multiple LED numbers to one controller, set the brightness level and precisely control when they switch on or off
How we make your LED house numbers
Your chosen number(s) are either precision laser cut from quality branded acrylic or precision CNC cut from quality branded aluminium composite. The edges are checked and cleaned by hand. Fixing positions are etched onto the reverse of each number before we carefully align and affix the floating studs. High quality specialist LEDs are installed within a clear acrylic edge, suitable for indoor and outdoor use.
We inspect the surface of each number before being safely packaged with all the fixings, screws and template to achieve our ultimate goal of providing you with a quality product that we took pride in making.
Specifications
Material
3mm gloss acrylic, 5mm gloss acrylic, 5mm satin acrylic, 3mm aluminium composite. Colours include black, white and brushed aluminium.
Stand-off Fixings
Fixings are 11mm x 16mm and stand-off from the wall 16mm.
Hole Size
Drill hole diameter of 5mm - 5.5mm is required for fixings. Numbers float 16mm off the wall .
Sizes
Sizes start from 150mm tall. The range includes 150mm, 200mm, 250mm, 300mm.
Package Contents
Each LED number has pre-fitted fixings on the reverse and includes matching wall fixings. Quantity of fixings depends on size of the number. Included are screws, wall plugs, stand-off supports, 1x drill template and instructions.
LED
Each LED number has high quality long lasting specialist LED lights installed which can be dimmed using our LED Timer Controller.
Cable
Each LED number has 5 metres of cable fitted as standard but longer lengths can be supplied.
Power Supply
LED numbers are 12v and multiple numbers can be run from one power supply which is sold separately. Options available on the Go Design page.
Timer Controller
LED numbers can be connected to our Timer Controller (available separately) for ON/OFF timer and dimming options.