Sirius 215 LED
Size: 215mm x 215mm
The Sirius 215 LED house sign is elegance and style combined.
The Sirius 215 LED house sign offers superior design space and achieves greater visual impact and enhanced design flexibility.
Not just a night-time sign, Sirius looks just as distinctive during the day with clean lines, bright colours and a modern acrylic high gloss appearance.With six design shapes available in a larger format, you'll find a style you can customise to suit your home or business. Manufactured to a high standard, with hidden fixings and nothing to detract from its looks, you simply wouldn't know it was LED lit until you switch it on. The Sirius 215 LED sign is suitable for installation internally or externally and is completely weatherproof. Available in two versions; Version 1 - Low voltage (12v) and Version 2 - High voltage (240 v). The Sirius has an internal LED light panel to maximise light distribution. This ensures a bright and super energy efficient sign using a maximum of just 5 Watts. This is what makes the Sirius 215 LED sign superior to the alternatives. We have an easy to use online tool for you to design your own LED sign, with a large selection of fonts and colour options, but if you're not confident we are here to help.
Digitally Controlled: The Sirius LED house sign works with our smart Digital Timer and Dusk Dawn Controllers; the easiest way to precisely control when your sign is on or off, including brightness level control and more.
Available in six design shapes with a large selection of fonts and colours





Try out our easy to use online tool to design your own Sirius 215 LED house sign
What some of our customers have said about the Sirius 215 LED house sign



Superior LED Signage
Perfect illumination and fine detail in a quality finish.
What's in the box.

You will receive a fully assembled Sirius 215 LED sign made to your design. Depending on your selections, fitted to the sign will be either a 5 metre cable ( if you need longer, just let us know, we can add length by the metre) or an embedded 240v power unit with or without optional built in digital controller. All stand off fixings, screws, template and instructions are included. If you select a 12v unit then a 12v power adaptor will be supplied which requires connection to the mains electricity supply. We can also supply a plug in power adaptor as an option for easy installation. There is no need for an electrician with this option. All specifications are detailed below.
1 / 6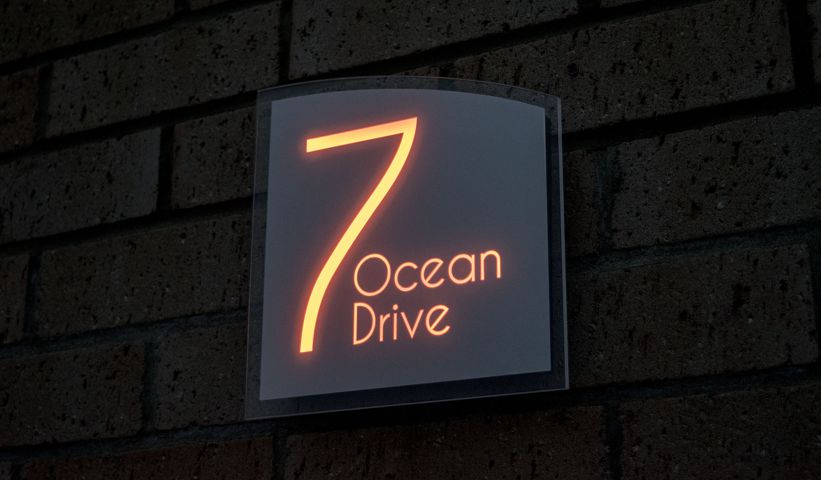 2 / 6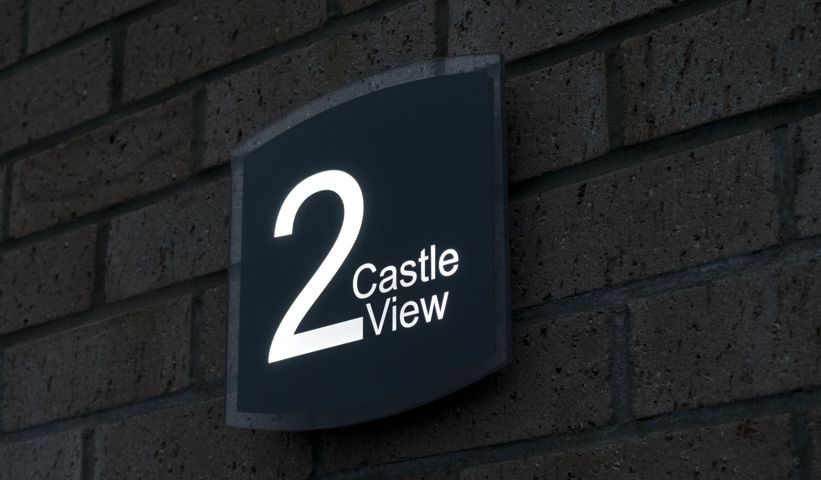 3 / 6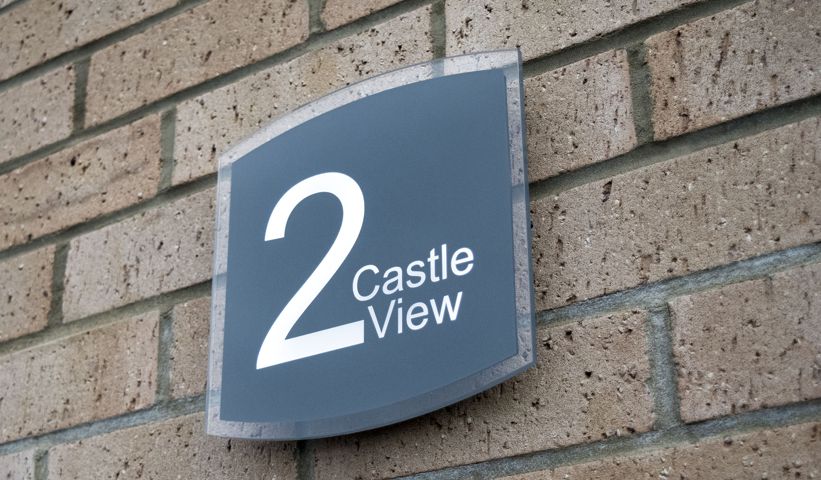 4 / 6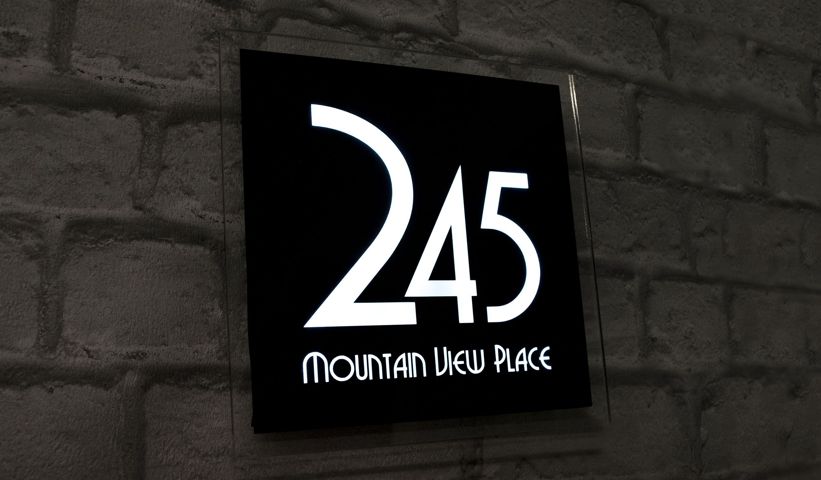 5 / 6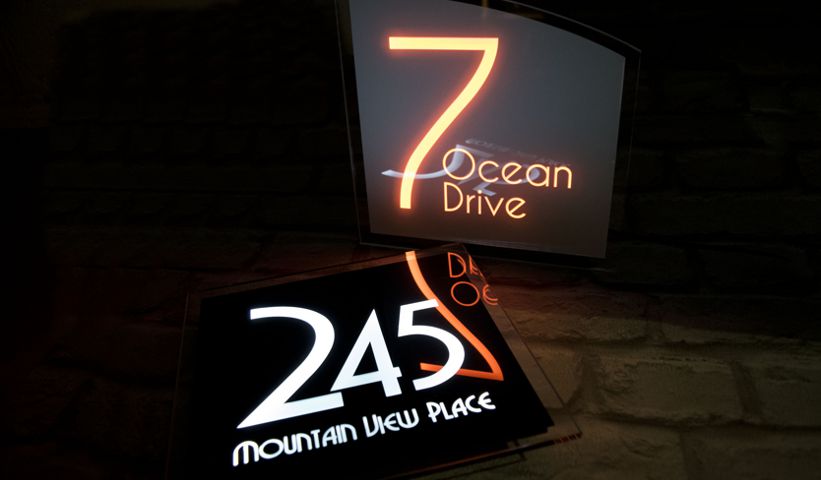 6 / 6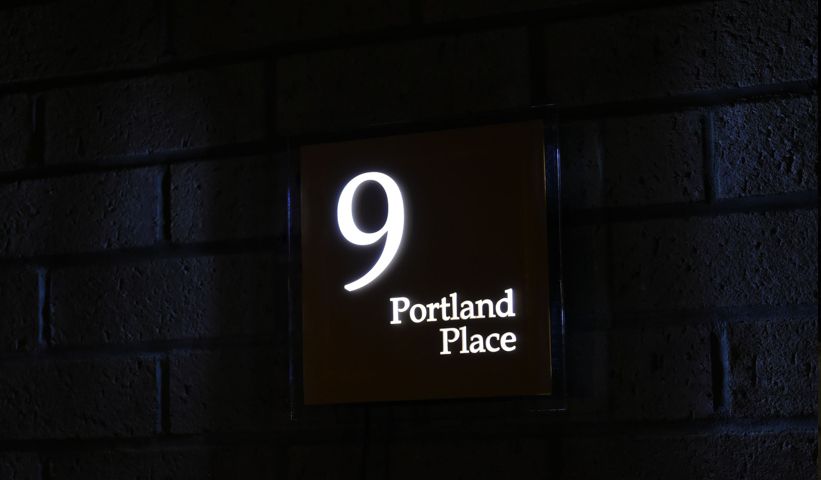 It's easy to choose your options and design your LED house sign.
The Sirius 215 LED is compatible with our digital timer controllers
How we make your Sirius 215 LED sign
The Sirius is assembled in layers with the first layer being the front plate and a second light plate with your design. Being applied on the reverse with a clear border shows its true quality and allows for the depth of colour and lustre to shine. A second layer is the LED light plane and reflector. This incorporates your design details to be illuminated with super bright, super thin LED's embedded around your design. The third layer is a super strong waterproof flexible bonding gel, which bonds a gloss black acrylic back panel to the front.
Your design is accurately created and cut from the finest quality acrylic and vinyl, ensuring durability and colour vibrancy. The complete assembly is tested for bright, even illumination and weather proofing. Your finished Sirius LED sign is inspected, cleaned and safely packaged for our ultimate goal of providing you with a quality product that we took pride in making.
Specifications
Material
Clear 5mm Plexiglas acrylic front plate, 3mm Plexiglas acrylic back plate, 3mm Plexiglas acrylic light plate. UV stable.
Stand-off Fixings
11mm x 16mm tall, hidden stand-off supports. The sign floats off the wall by 16mm.
Hole Size
Drill hole diameter of 5mm, 5.5mm or 6mm is suitable for supplied fixings.
Dimensions
See size selections above. Thickness of sign is 13mm, Minimum 16mm stand-off space from the wall.
Shapes
up to 6 design shapes available in most size selections.
IP Rating
65.
Power
The Sirius 215 LED sign is 12 volts. 5 Watts.
Package Contents
1x assembled Sirius LED sign, 1x LED driver embedded or not-embedded, Screws, Wall plugs, Wall spacers, 1x drill template and instructions.