Aspire LED
Size: 240mm x 150mm
The Aspire LED house number plaque has a distinctive design with a classic but luxurious appearance.
Made from quality materials with raised acrylic numbers.
Manufactured to a high standard, the Aspire LED house plaque looks very distinguished during the daytime and you would easily not know this was an LED sign without switching it on. The Aspire is available in one size with dual LED edge lit sides made from gloss black acrylic. The main construction of the sign utilises a specialist light refracting 8mm thick acrylic slab which when lit produces a bright but even illumination throughout. Offset this by the black gloss raised numbers and brushed aluminium back panel and you have a very smart illuminated house plaque. You can style the sign to your requirements from a range of fonts and LED colours. The Aspire LED house number plaque is suitable for installation internally or externally and is completely weatherproof. Powered by safe low voltage (12v) at a maximum of 3.5 Watts, it's bright and super energy efficient. . The sign sits raised off the wall using hidden fixings so nothing detracts from its appearance. We have an easy to use online tool for you to design your own LED house plaque, with a large selection of fonts, but if you're not confident we are here to help.
Available in one classic design with a choice of fonts and LED colours
Try out our easy to use online tool to design your own Aspire LED plaque
What some of our customers have said about the Aspire LED house plaque



Distinctive Design
The ultimate finishing touch to your property
What's in the box.

You will receive a fully assembled Aspire LED house number plaque made to your design. Fitted to the sign is 5 metres of cable but if you need longer, just let us know, we can add length by the metre.
All stand off fixings, screws, template and instructions are included.
One 12v power adaptor is also supplied which requires connection to the mains electricity supply. We can also supply a plug in power adaptor as an option for easy installation. There is no need for an electrician with this option.
All specifications are detailed below.
1 / 6
Aspire LED House Plaque
2 / 6
3 / 6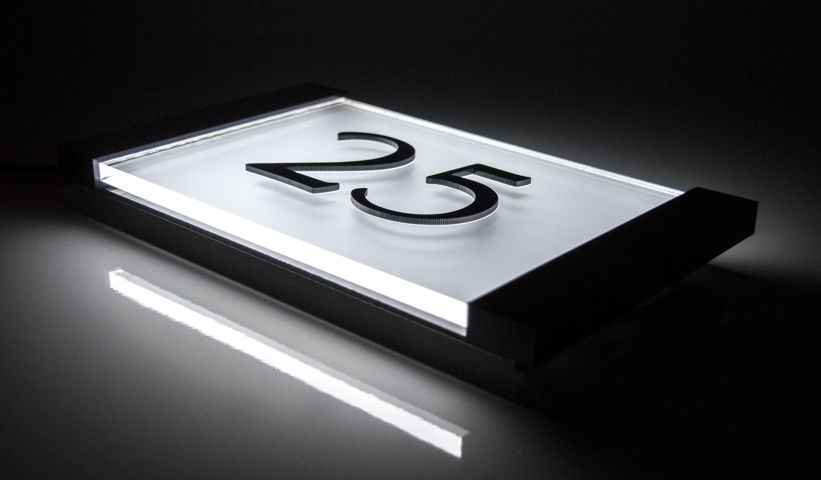 4 / 6
5 / 6
6 / 6
It's easy to choose your options and design your LED sign.
The Aspire LED is compatible with our digital timer controllers
How we make your Aspire LED house sign
Your number(s) are precision laser cut in your chosen font from quality branded black acrylic and the edges checked for a smooth finish. An 8mm plate of specialist light-distribution acrylic is laser cut to size and a 3mm aluminium back plate is CNC machined to size with wall fixing points cut out.
Gloss black sides are laser cut and assembled with LED lights embedded within. Each side is bonded to the ends of the 8mm acrylic plate and your chosen number(s) are bonded in perfect position on the face. The back plate, wall fixings and electric cables are installed and LED's tested before finally sealing for outdoor use. Your finished sign is inspected, cleaned and tested before being safely packaged for our ultimate goal of providing you with a quality product that we took pride in making.
Specifications
Material
Clear 8mm Specialist Plexiglas acrylic front plate, 3mm Brushed aluminium back plate, 14mm Deep black acrylic sides and 3mm thick raised numbers.
Stand-off Fixings
4x 11mm x 16mm Stand-off fixings. The sign will float off the wall by 16mm.
Hole Size
Drill hole diameter of 5mm, 5.5mm is suitable for supplied fixings.
Dimensions
Width 240mm x Height 150mm.
LED Colours
Available in White, Blue or Green.
IP Rating
65.
Power
Aspire MKII Sign is 12 volts - 3.5 Watts. A suitable power adaptor is supplied.
Package Contents
1x Assembled sign, 5m Cable attached, 1x 12v/240v LED driver, 4x screws, 4x wall plugs, 4x wall spacers, 1x drill template and instructions.